For Immediate Release
LOS ANGELES BASED DANFIELD, INC. DEVELOPS THE FIRST
CHEMICAL-FREE AND ENVIRONMENTALLY FRIENDLY
HIGH-QUALITY LEATHER PRODUCTS
Revolutionary New Product Line, EcoHides™, Uses All-Natural Vegetable Dyes without Harmful Toxins in Tanning Process
Commerce, Calif., June 16, 2008 – Danfield, Inc., the only leather finishing plant operating in the western United States, has developed the first 100% environmentally-conscious method for processing leather.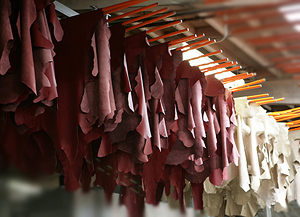 Utilizing natural colorants, vegetable dyes and waxes, Danfield's new product line EcoHides™ creates soft and pliable leather without harming the environment. Danfield Inc. plans to showcase EcoHides™ at several trade shows in the United States. Available in a variety of in-stock or custom colors and finishes with very short lead times, the leather hides are offered directly to the public on www.EcoHides™.com or to interior designers and manufacturers by contacting their sales office.
The conventional tanning technique is a complex chemical process used to transform perishable raw hides into durable leather at the expense of our natural resources. The chrome and other heavy metals used in preparation of leather hides are pollutants that emit toxic fumes and contaminate the air and water, which seep into the environment.
Inspired by his California lifestyle to respect earth's resources, third generation tanner and Danfield, Inc. owner Vahe Imasdounian says, "If everyone did their small part we can make a difference in deterring global warming – EcoHides™ is our contribution. Think globally and act locally is not just a catchy line for us, it's acommitment. That is why we've created a new product line conscious of how we affect the environment."